A little bird told me...
This ground breaking new Festival of Queer Spirituality is bringing together an astounding line up of performers, activists and spiritual facilitators, combining their skills and talents in the name of the growth of love, community and awareness in the queer universe.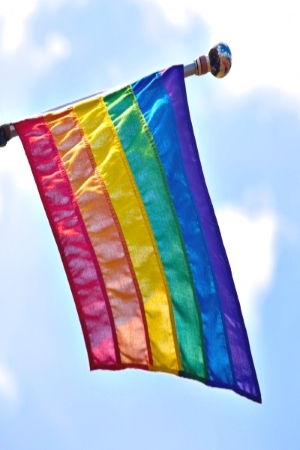 LGBTQI life has made huge achievements in the last 5 decades in the areas of sexual, social and political freedom.  Queer Spirit Festival gathers together activists, artists and community builders who are taking us all to the next frontier, the spiritual frontier - which is not about whether we are religious or not, or which religion we relate to.
The spiritual frontier is the search for who we are at the core level of our being, both individually in our souls and collectively as the queer portion of the human family.  It is also about manifesting our core nature, bringing out the best of who we are, developing and celebrating our talents, freeing ourselves from mental and emotional barriers and wounds that block our energy and our joy.
The queer spiritual frontier is about gay caterpillars transitioning to multidimensional butterflies, ugly ducklings becoming swans, sleeping beauties awakening…. it is about the deviants becoming divine.
Queer Spirit embraces stillness and movement
The festival Meditation Temple is hosted by Nick Kientsch of Evolving Minds who runs mindfulness classes in Covent Garden.
Those who enjoy morning practice can start the day with Yoga, Pilates or Qi Qong.
Dancing of many kinds is on offer including workshops such as Cleo Jackson's Dance Your Naked Truth, and Indian Tribal & Sufi Dancing with Kali Chandrasegaram.  Explore your sense of grace in Radical Ballet.  Get hot and happy at the Gay Gordons Ceilidh.  Trance Dance with the spirits of the land.  And Get down to the sounds from DJ RIO from Short Mountain Radical Faerie sanctuary in Tennessee, LDJ Buzzy from the UK and others.
Queer Spirit takes us into the exploration of "Who we are"
There will be lots of ways to explore the mysteries of spirit: eg Shamanic journeys, Kabbalah, Full moon ritual, Native American pipe ceremonies, Trancework, Gong baths, Firewalk and more...
Discussions, Debates and Action planning at the Campaigns yurt hosted by the crew from Act-Up, plus a look at our Queer journeys of transformation and transcendence with Shokti Lovestar and Adele Bright Daffodil.
And lots of ways to have fun: Crafts, Circus skills, Trapeze, Drumming, Sauna, Fire circles, Cabaret, Open mic, Healing garden, Village hall, Ancestor wall.   
Cafes on site selling all kinds of vegetarian and vegan delights, sweet specialities, night-time drinks and snacks
Queer Spirit celebrates the sacred in sexuality
The Sacred sexuality temple is our sensual adult only space, brought to the festival by a fabulous crew of Amanda Gay-Love, Bonobo Woodland, Calu Lema and others and will include such delights as Conscious Speed Dating,  Erotic Dream Weaving, Queer Conscious Sex and Power, Sensual Jam, Impact Play, Bonobo Play Party, Conscious Touch, Sex Magic, Sensual Earth,  Orgasmic Yoga and more….
Queer Spirit Festival - 5 days in 150 acres of nature where 500 queers meet, love & play
From early morning yoga to late night dancing there is a packed programme of activities designed to please all tastes, ages and inclinations.  But don't worry, nobody is expecting you to do anything!  It is perfectly fine to come and relax in the beautiful Wiltshire countryside, talk to the trees, soak up the sunshine, hang out under the stars, make love and make merry. 
Queer Spirit is offered as a space for sharing, experiencing, growing, lightening the load and dreaming a bigger dream.  Community is ours to claim and create.   Please spread the word, tell & bring your friends...