WE ARE ALL TRANS by Shokti
"The truth is, no one of us can be free until everybody is free." Maya Angelou 
Trans people are constantly in the news, and getting similar, hostile, treatment to that given out to gay men in past decades: currently we are seeing anti-trans bills in American legislatures, protests at Drag Queen Story Time events in the UK, and anti-trans rhetoric flowing freely.  
At Queer Spirit Festival the LGB will stand up and declare solidarity with the T:
I would like to see all parts of our Rainbow Tribe declare that: 
WE ARE TRANS TOO
Gender-bending, gender-variance, gender-fluidity are intrinsic to all of us in the LGBTQ+ spectrum.
Some of us have learned to hide this part of our nature
in order to assimilate into heteronormative society -
Learned to hide this powerful nature so well,
from those who would abuse us for who we are,
that many of us have forgotten it ourselves:
Our male-female or non-binary nature gives us the key
to compassion, communion and creativity -
to the place inside us that lives in eternity
and perceives the Oneness in us all:
let's learn to open heaven's door
so that upon the earth the gods may pour
the waters of Aquarius
~ the cosmic emotions that unite us ~
as one human family.
Let's redefine ourselves,
find terms that honour our queer nature: 
sexuality and spirituality united
in our loving, ecstatic play:
there's so much more to being LGBT
than what we do with our bodies:
We are the ones who walk between worlds
whose holy bodies unite the heavens and the earth -
our spirit is reviving 
after centuries of blame, shame and pain,
our powers are returning:
nature will speak through us again.
During centuries of persecution and repression
of our nature as nature-folk
we've often had to hide the dance of the genders
happening on the inside,
but the shifting of the game
gave us freedom to walk again with Pride:
and with Pride we all walk together
lesbians, gay men, bisexuals and trans people
united in spirit forever
because we are all part of the rainbow,
all able to transcend gender's definitions
and become egoless, ecstatic vessels
and fill the world with visions
as we channel again the waters of life
express the feelings of nature 
and open the way to what comes next:
the evolution of the species
into cosmic consciousness -
RECLAIMING QUEER NATURE
as the crossweave that holds life's tapestry together.

Back in the early 1990s, lifelong campaigner for LGBTQ rights and Radical Faerie, Harry Hay, called on gay men to own and declare their affinity with third-gender people in all cultures:
"I am proposing that we take a hand-up example from our potential allies in the Third and Fourth Worlds, whose cultures may well be overtaking, and even out-numbering, our Hetero Western so-called Free World sensibilities in the not-too-far distant first decades of the 21st century. I propose that we Gay Men of all colours prepare to present ourselves as the gentle non-competitive Third Gender men of the Western World with whole wardrobes and garages crammed with cultural and spiritual contributions to share.
"… time for us Gays to reclaim our Third Gender responsibilities…
"It is time for us Third Gender folk… to rejoice in the gifts we bring!"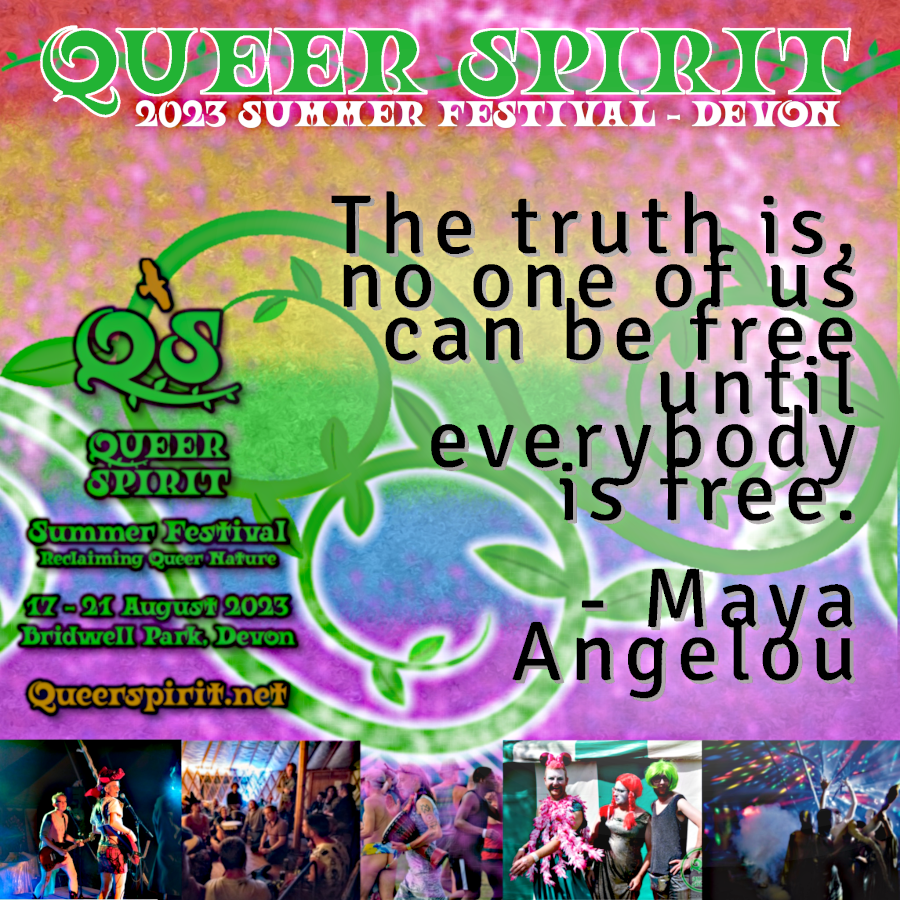 AT QUEER SPIRIT FESTIVAL WE CELEBRATE THE CREATIVE SPIRITUAL GIFTS AND TALENTS OF PEOPLE
OF ALL GENDERS, SEXUALITIES AND IDENTITIES
and celebrate
 GENDER FLUIDITY AS A COSMIC, SACRED FORCE OF NATURE.